All Programs
Community Resource Coaching
Pantry With a Purpose
Mental Health Counseling for Women
Womenade Financial Assistance
Groups
Groups
---
All groups that meet at Women's Resource Center in Hickory, NC are free, confidential, and available to women throughout Catawba, Burke, Caldwell and Alexander counties. Details are available in the WRC Events Calendar or by calling the front desk.
Our groups include:
New women's discussion group  at WRC!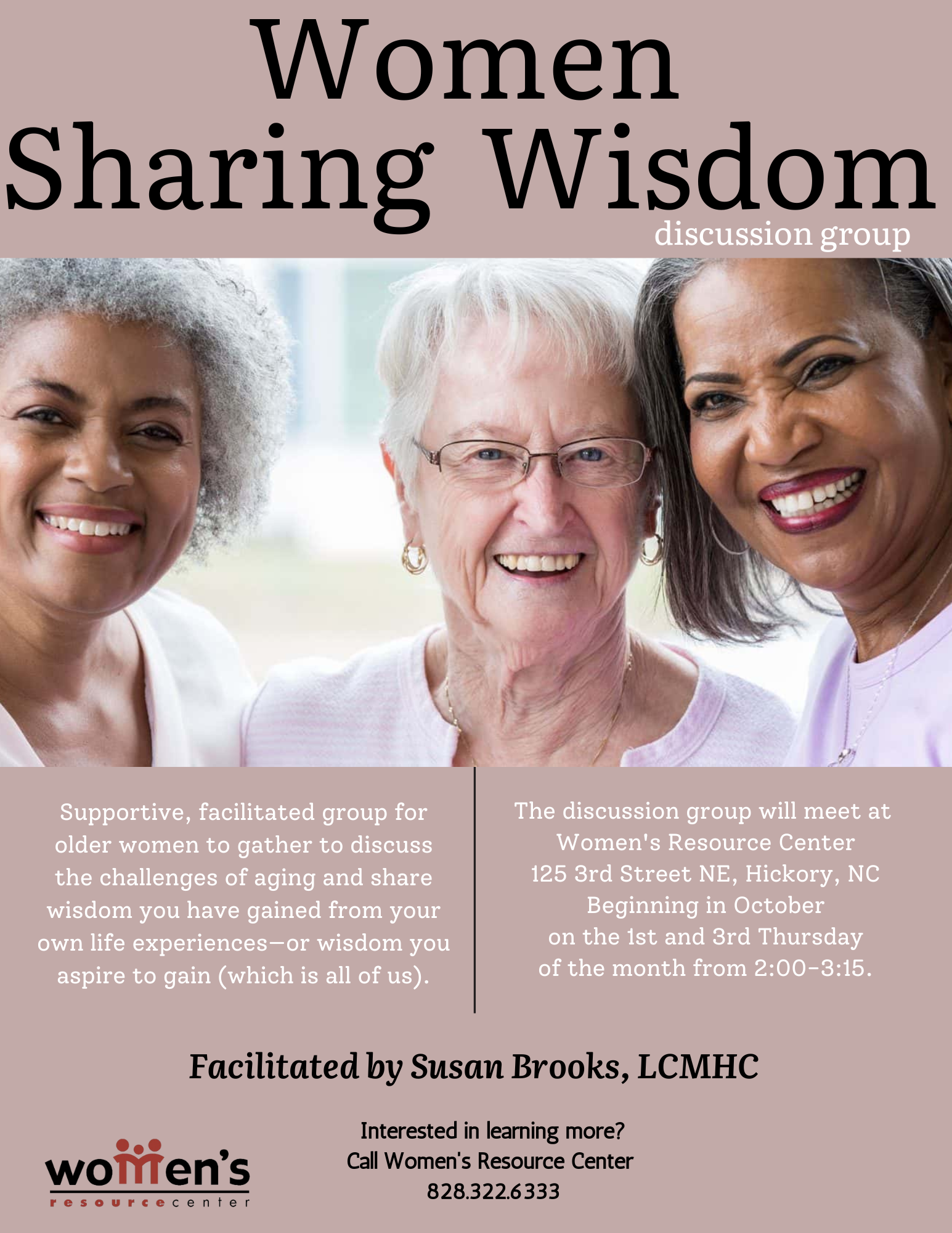 Women Sharing Wisdom will provide older women with a safe place to share, explore possibilities, and find creative solutions to the difficulties of aging. Women face a variety of challenges as they move into their older decades. Many feel isolated and lack a place to have meaningful discussions and receive support for the issues they face.
 The discussion group will be facilitated by Susan Brooks, LCMHC, and will meet at Women's Resource Center on the 1st and 3rd Thursdays of each month from 2:00-3:15 beginning on Thursday, October 5.
For more information call the Center at 828.322.6333
Legal Aspects of Separation and Divorce:      Breaking up & Moving On Workshop:  The last workshop was held on Tuesday, November 15, 2022 from 6:00-7:30 pm.  Please call our office to find our when the next workshop is being planned for, or if you would like additional information about this program.
Keep It Simple: Co-ed 12-step AA group.  Meetings are held at 10 am every day EXCEPT for Tuesday and Sunday.  On Monday, Wednesday, Thursday and Friday, the group meetings are held at WRC; and the Saturday meeting is currently being held at New Beginnings (706 Main Ave SE, Hickory, NC 28602).
Adult Children of Alcoholics: Co-ed. 12-Step/Red Book group. Meets at WRC twice a week on Tuesday and Sunday at 5:30 pm
Rainbow Recovery: AA group that focuses on the LGBT community but is open to anyone. Meets at WRC every Friday at 7 pm
Emotional Support Group: Focuses on mental health support for women facing any kind of mental health challenge. Official diagnosis is not required. Facilitated by Michele B. Hewitt, LPCA, NCC.
Meets at WRC every Wednesday at 11:30am.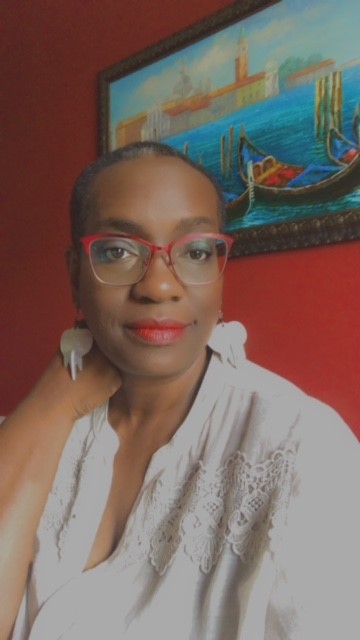 Michele B. Hewitt has a B.A. Sociology from University of North Carolina at Chapel Hill and a M.A. Clinical Mental Health Counseling from Lenoir-Rhyne University.  Professor Hewitt is a Licensed Clinical Mental Health Counselor at Crossroads Counseling Center and an adjunct professor of Psychology at Lenoir-Rhyne University. She has over 15 years' experience working with adolescents and adults in various settings to include local school systems and non-profit agencies.  She considers all her work an opportunity to serve others.  Michele is passionate about helping people move beyond their past and present experiences to live lives that are genuine, fulfilling, healed and on their own terms.  In between providing therapy services and teaching, Michele serves Women's Resource Center as the facilitator of the emotional support group. She also serves as a board member for a local organization. Michele's greatest joy includes spending time with family.
WRC Book Club: The WRC Book Club is a group of women who meet for stimulating discussions around books of the group's choosing.  Meets at WRC on the first Monday of the month from 6:30 to 8:00.  Click here for more detailed meeting information:  WRC Book Club
Newcomers Book Club:  The Newcomers Book Club is a group of women who meet for group discussions around books of the group's choosing.  Meets at WRC on the fourth Wednesday every other month, except in November which is held on the 3rd Wednesday because of the Thanksgiving holiday.  We meet from 1:30-2:30.  Click here for more detailed meeting information:  Newcomers Book Club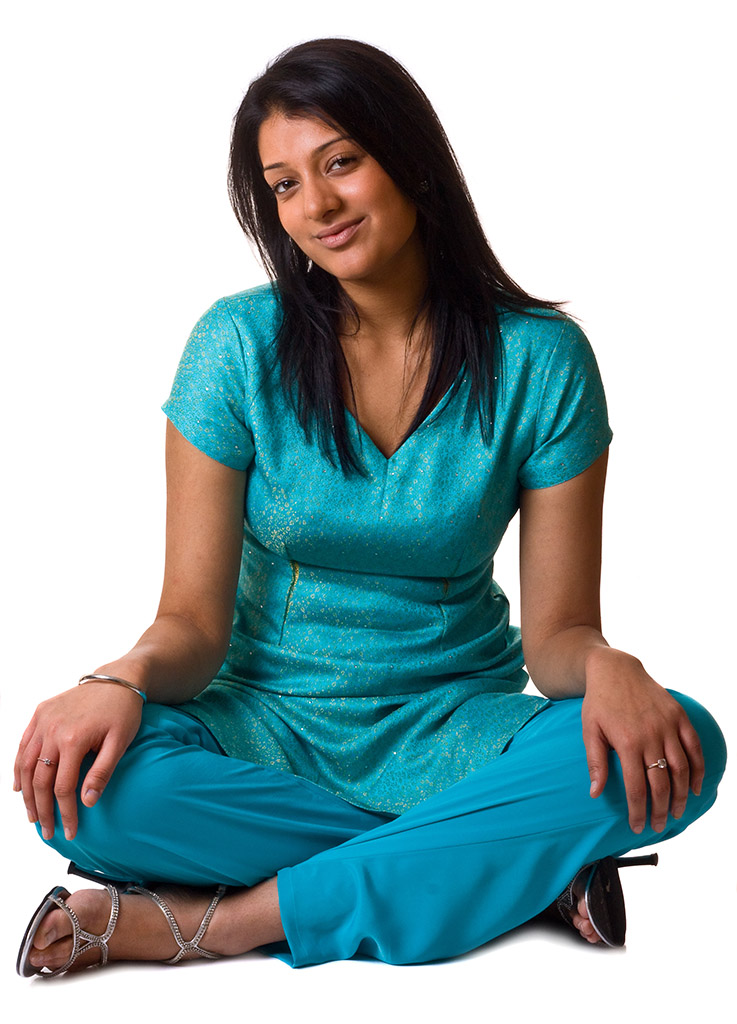 Other groups and workshops for women are offered as needed. Please visit the WRC Events Calendar to see what is upcoming.
If you are interested in hosting a new support group in our space, please contact [email protected].
December

2023

Mon
Tue
Wed
Thu
Fri
Sat
Sun

1

WRC OFFICES CLOSED - Groups Meet as Scheduled

Keep It Simple AA

Rainbow Recovery

• • •

2

WRC OFFICES CLOSED - Groups Meet as Scheduled

•

3

WRC OFFICES CLOSED - Groups Meet as Scheduled

ACOA-12 Step Group

• •

4

Keep It Simple AA

WRC Women's Book Club

• •

6

Keep It Simple AA

Emotional Support Group for Women

ACOA-Big Red Book Study

• • •

7

Keep It Simple AA

Women Sharing Wisdom Group

• •

8

WRC OFFICES CLOSED - Groups Meet as Scheduled

Keep It Simple AA

Rainbow Recovery

• • •

9

WRC OFFICES CLOSED - Groups Meet as Scheduled

•

10

WRC OFFICES CLOSED - Groups Meet as Scheduled

ACOA-12 Step Group

• •

12

Volunteer Holiday Party

Divorce Workshop

• •

13

Keep It Simple AA

Emotional Support Group for Women

ACOA-Big Red Book Study

• • •

15

WRC OFFICES CLOSED - Groups Meet as Scheduled

Keep It Simple AA

Rainbow Recovery

• • •

16

WRC OFFICES CLOSED - Groups Meet as Scheduled

•

17

WRC OFFICES CLOSED - Groups Meet as Scheduled

ACOA-12 Step Group

• •

18

WRC OFFICE CLOSED - Groups meet as scheduled

Keep It Simple AA

• •

19

WRC OFFICE CLOSED - Groups meet as scheduled

•

20

WRC OFFICE CLOSED - Groups meet as scheduled

Keep It Simple AA

Emotional Support Group for Women

Newcomers Book Club

ACOA-Big Red Book Study

• • • • •

21

WRC OFFICE CLOSED - Groups meet as scheduled

Keep It Simple AA

Women Sharing Wisdom Group

Piedmont Investment Club

• • • •

22

WRC OFFICES CLOSED - Groups Meet as Scheduled

Keep It Simple AA

Rainbow Recovery

• • •

23

WRC OFFICES CLOSED - Groups Meet as Scheduled

•

24

WRC OFFICES CLOSED - Groups Meet as Scheduled

ACOA-12 Step Group

• •

25

WRC OFFICE CLOSED - Groups meet as scheduled

Keep It Simple AA

• •

26

WRC OFFICE CLOSED - Groups meet as scheduled

•

27

WRC OFFICE CLOSED - Groups meet as scheduled

Keep It Simple AA

Emotional Support Group for Women

ACOA-Big Red Book Study

• • • •

28

WRC OFFICE CLOSED - Groups meet as scheduled

Keep It Simple AA

• •

29

WRC OFFICES CLOSED - Groups Meet as Scheduled

Keep It Simple AA

Rainbow Recovery

• • •

30

WRC OFFICES CLOSED - Groups Meet as Scheduled

•

31

WRC OFFICES CLOSED - Groups Meet as Scheduled

ACOA-12 Step Group

• •